As the holidays draw near, the mad rush for package delivery and gift-giving gets even more hectic as the hours pass. For some, giving gifts is extremely easy, and many friends and family members are easy to shop for. Sometimes however, finding the right gift for a family member is less than easy — especially if they're picky. But for the car enthusiast in your life, there are a ton of different gifts you can give them — both big or small, that can have an impact on their experience, and make them smile this holiday season.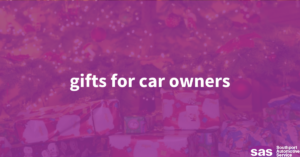 Heavy Towels
Cleaning and polishing a car is an art form not perfected by many, and requires the right tools to get it done. For people who are looking for a great, simple gift, high GSM microfiber towels are great additions under the tree, and in stockings. GSM, which stands for grams per square meter, is indicative of the weight of the towel, and can help one determine if it's going to be good as soaking up water and helping to clean. As you get higher in GSM, prices will increase, but a safe bet for most owners is a towel with 300 or more GSM, and a 70/30 blend of polyester to polyamide.
Foam Cannon
Staying on the same track as the towels, cleaning the car can be a lot of work. Recent trends have shown that high pressure foam cannons provide excellent soap coverage and when activated, have a great skill at fighting back against built up dirt and grime. These can be add-ons to your pressure washer, or can be attached to your hose.
Tools
Everything from jackstands to socket wrenches can be a great addition to a car-lover's arsenal of tools. Any person who wrenches on a car will tell you about a few tools they wish they had, or ones they need a second set of. Gifts like these can be great additions for their garage or toolbox, as they provide instant benefit to those who are in need of them.
Southport Automotive is Fairfield County's premier service station for all things Automotive. In business since 1981, we've helped get thousands of Connecticut residents back on the road faster, and for longer. To learn more about how we can help your vehicle stay in its best shape, please give us a call at 203-259-3839. For more tips and tricks, make sure to like us on Facebook!