With cold weather here to stay for the next few months, it's important to understand that in many cases, preparation is one of the most important things to think about now. When it comes to your vehicle and how you can be prepared for inclement weather, there are a number of essentials that should find their way into your car this season. Below are a few of the things to consider keeping handy should you need them!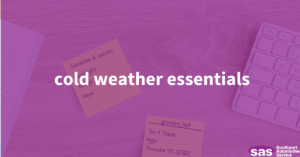 Blankets & Snacks
While we're not necessarily expecting an avalanche anytime soon, there are emergency situations in which people can become trapped in their car during snowstorms and cold weather. Situations such as this can lead to panic, as well as injuries due to the cold. In order to prevent this from happening, keep a few blankets in your car as well as a small array of snacks that you can eat, should you need them.
Flashlights & Tools
A flat tire or busted body panel due to the snow is the last thing you need on a night drive — but things like this have a weird way of happening at the wrong time. Should you need to fix something on the outside of your car, make sure you have the necessary tools to do so, including a flashlight to help you see. These small additions can prevent you from being outside and freezing.
Catnip
Odd, right? But even catnip has its uses! Catnip can be used in a tied up sock as a moisture trapper in the mornings, as well as emergency ice-melt when you're in a pinch. Grab some of this inexpensive stuff at your local pet store or borrow a cup from a friend — it's a great addition!
Of course, winter can also bring upon damage to your car, or cause parts to prematurely wear out. Should this be the case, make sure you bring it somewhere that can effectively fix the issue the first time!
Southport Automotive is Fairfield County's premier service station for all things Automotive. In business since 1981, we've helped get thousands of Connecticut residents back on the road faster, and for longer. To learn more about how we can help your vehicle stay in its best shape, please give us a call at 203-259-3839. For more tips and tricks, make sure to like us on Facebook!